June 2009 trade statistics are out.
Total June exports of $125.8 billion and imports of $152.8 billion resulted in a goods and services deficit of $27.0 billion, up from $26.0 billion in May, revised. June exports were $2.4 billon more than May exports of $123.4 billion. June imports were $3.5 billion more than May imports of $149.3 billion.
So, while the trade deficit increased, both imports and exports increased, just imports rose faster than exports.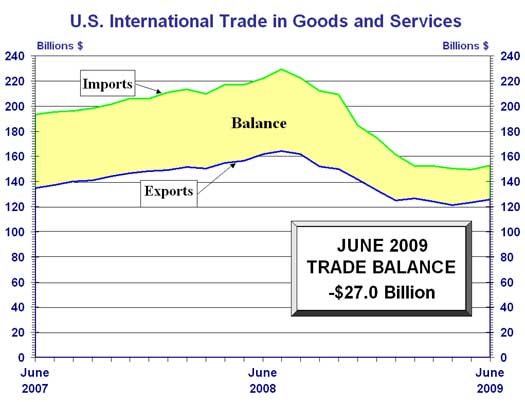 Src: U.S. Dept. of Commerce
June to May changes:
In June, the goods deficit increased $1.2 billion from May to $38.4 billion, and the services surplus increased $0.1 billion to $11.4 billion. Exports of goods increased $1.9 billion to $84.0 billion, and imports of goods increased $3.0 billion to $122.4 billion. Exports of services increased $0.5 billion to $41.8 billion, and imports of services increased $0.4 billion to $30.4 billion.
and Year-to-Year:
In June, the goods and services deficit decreased $33.2 billion from June 2008. Exports were down $35.8 billion, or 22.2 percent, and imports were down $69.0 billion, or 31.1 percent.
I find the year to year interesting in that maybe due to the slowdown in global trade, while the U.S. exports are down 22.2% at least imports have decreased substantially more...
Since the U.S. trade deficit is an indicator of hemorrhaging jobs as well as reduced GDP, that to me is a encouraging sign.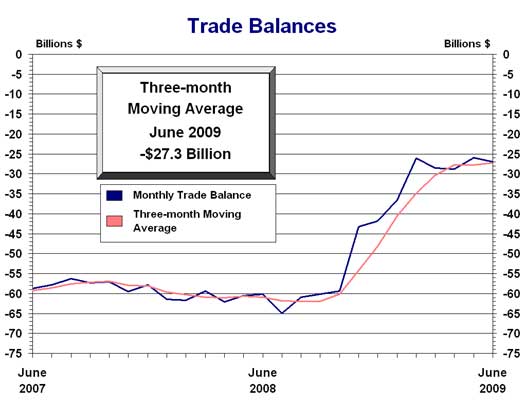 Src: U.S. Dept. of Commerce
Expect GDP revisions though because the net deficit has increased.
Also, one of the reasons for the increase is increased oil prices and overall increase in prices.