There is a complete disconnect in Washington from the quiet desperation of American lives. While politicians chatter talking points and claim lobbyists' agendas are somehow sane economic and labor policy, a full 23% of Americans have been fired in the last four years. That is disposable work syndrome and that is the crisis of our time, not the rhetorical fictional spin spewing from the mouths of politicians.
Of the almost a quarter of working America fired in the last four years, a full 22% cannot find another job. That's roughly eight million people.
Disposable worker syndrome has affected the entire nation. One-third of American households lost much needed paychecks over the past four years. A full 79% of America knows someone personally who lost their job. The great jobs slaughter has affected everyone except Wall Street and K Street. The below graphic shows the radiating circles of economic disaster as the job loss waves crashed across working America.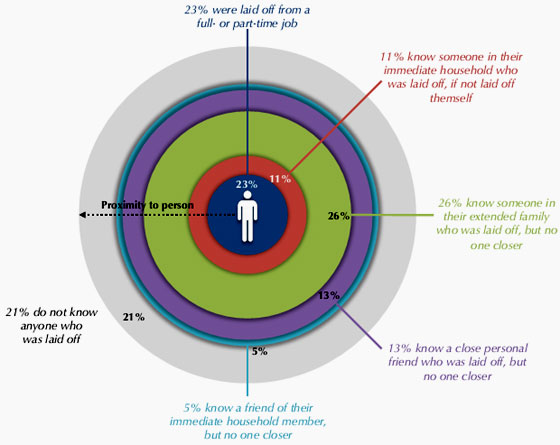 These devastating statistics are from a John J. Heldrich Center for Workforce Development survey conducted in January 2013. We actually ran their survey percentages against the current unemployment statistics. They match.
Of the people fired who managed to get another job, a full 48% took a step down in position with 46% taking a job below their skill or education level. A whopping 54% reported their new job pays less. A third took over a 30% pay cut to get a new job. Another third got hit with a 11-30% cut in pay. That's economic devestation for millions of Americans, even while working.
The economic impact is permanent to most families. The majority of Americans, 56%, now have less in savings than before 2008. Thirty-eight percent reported they are tapped out financially. Even those with jobs lost savings as over one third saw their nest egg shrink.
Over half of people said they were running through their savings just to get by and 30% said they were borrowing money. Below is the study graphic showing the desperate financial measures people have used to survive since 2008.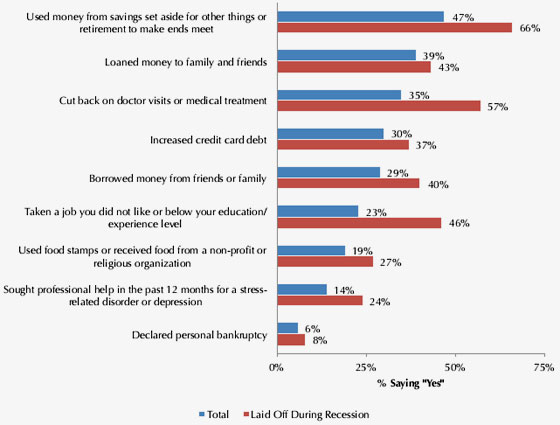 People literally are not going to the doctor because they can no longer afford it. Fifty-seven percent of survey respondents said they cut back on health care. Unfortunately the dead don't speak, so we don't know how many actual lives the recession took.
The study was actually released last week and did receive major press. We strongly suggest clicking on the link and read the study in full. The press glossed over in many ways how truly decimated the American people are economically. We've known that for years as we see it every day in the economic statistical reports. This survey brings it home.
The only silver lining to the survey results is we all can feel validated that we are not imagining things and our perception the entire middle class is being wiped out is true. Another truth is our politicians have been on a campaign. Just not the one reported. The campaign really is to destroy the U.S. worker and middle class. It's clear the Washington D.C. position is the American worker be damned and as a result, damned we are.