You've got to be kidding me. We have a strong case of what people say, what dogs hear. Federal Reserve Chairman Ben Bernanke gave a speech today on the labor market. Surprise, surprise, the jobs market still sucks. Yet Wall Street didn't hear about the plight of working America. Nope, they only heard what they want to hear, the possibility of QE3, otherwise known as quantitative easing.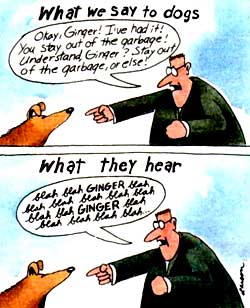 Ben Bernanke's speech acknowledged the pain and suffering endured by the United States worker. One would think the below quote would bring tears to Wall Street's eyes:
Those who have experienced unemployment know the burdens that it creates, and a growing academic literature documents some dimensions of those burdens. For example, research has shown that workers who lose previously stable jobs experience sharp declines in earnings that may last for many years, even after they find new work. Surveys indicate that more than one-half of the households experiencing long unemployment spells since the onset of the recent recession withdrew money from savings and retirement accounts to cover expenses, one-half borrowed money from family and friends, and one-third struggled to meet housing expenses. Unemployment also takes a toll on people's health and may have long-term consequences for the families of the unemployed as well. For example, studies suggest that unemployed people suffer from a higher incidence of stress-related health problems such as depression, stroke, and heart disease, and they may have a lower life expectancy. The children of the unemployed achieve less in school and appear to have reduced long-term earnings prospects
Did Wall Street hear any of that? Nope. Only the possibility of more easy profits through quantitative easing. Here's the money shot which caused Wall Street to go hog wild:
Consequently, the Federal Reserve's accommodative monetary policies, by providing support for demand and for the recovery, should help, over time, to reduce long-term unemployment as well.
Really Ben? Accomodative policies have worked so well already...for corporations, commodities traders and banks. More on that later.
First off, we know the labor market really sucks. See here, here and more generally here. Bernanke states the obvious, except to lobbyists and pundits, the current problem with jobs is plain, good old-fashioned demand. Employers are not hiring enough. Anyone in statistical reality knows unemployment is cyclical and due to employers not hiring. We do not have a skills shortage in America, or a skills mismatch, that's just corporate lobbyist rhetoric to flood the U.S. labor market. Corporations want more foreign guest workers, to offshore outsource ad nauseum and to generally continue the disposable American worker syndrome already in play.
Nope, there is no skills shortage. Bernanke knows the labor market situation is cyclical, i.e. demand. There just isn't enough demand for U.S. workers.
I will argue today that, while both cyclical and structural forces have doubtless contributed to the increase in long-term unemployment, the continued weakness in aggregate demand is likely the predominant factor.
Beyond what we point out every month, what did Bernanke amplify in his speech that's new? Bernanke is connecting the dots between the disposable American worker syndrome and overall economic growth. He says:
Long-term unemployment may ultimately reduce the productive capacity of our economy.
One of the things that bothers us down here on the real world, working America ground are Academics' refusals to acknowledge offshore outsourcing, use of foreign guest workers, age discrimination, sex discrimination and all of the other disposable worker syndrome characteristics which amount to treating the U.S. worker like shit. Those facts, along with our trade deficit, are almost never acknowledged.
Bernanke gives a wink and a nod to these factors when discussing long term unemployment.
Factors such as globalization, technological change, and the loss of lower-skill manufacturing jobs have likely reduced the employability and earnings potential of some groups of workers.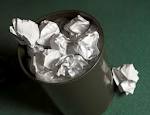 The question then becomes why aren't policy makers looking at these factors to get people back to work? We have an entire generation of highly skilled and experienced workers being shunted to the labor trash can simply because they are over the age of 50. That's obscene and discriminatory. We even have laws on the books to stop age discrimination. Yet discrimination against older workers is institutionalized, so common no one even blinks an eye when brazen age discrimination occurs right in front of them.
While the Fed doesn't have jurisdiction over policy such as stopping age discrimination, labor arbitrage, and other absurd, worker malaise creating practices, by golly, the Fed can influence policy makers to pull their heads out of their @@#&*! denial cavities.
Today Wall Street went nuts over the prospect their little quantitative easing financial circle jerk will continue. Yet the premise, the reason for the remedy is supposedly job creation. The question then becomes does quantitative easing help get people jobs? In a word, no. Just last year we had analysis that quantitative easing did little for labor markets. Nope, instead, corporations are sitting on a buttload of cash, some of which was made from quantitative easing effects.
Is Bernanke using the plight of the U.S. worker as a pawn in the great quantitative easing gambling casino promotional game? Who knows, but the conflicts within the Federal Reserve over more quantitative easing are known. Below is an interview with Dallas Federal Reserve Bank President, Richard Fisher, where he calls quantitative easing monetary morphine.
Bottom line, while Bernanke's speech is a great overview on the state of U.S. labor markets, full of statistical details, Wall Street plain doesn't care. All they want to hear about is quantitative easing when the reality is we need not only jobs, but a complete paradigm shift towards the U.S. worker and American labor market. We need to put American workers first and foremost in almost all policy. Right now U.S. labor comes in dead last in almost every policy consideration.