Below are more graphs and facts from the September BLS employment report data.
Forced part-time work is at epidemic levels. Below is a graph of those forced into part-time jobs because they cannot get a full time one. This data goes back a decade.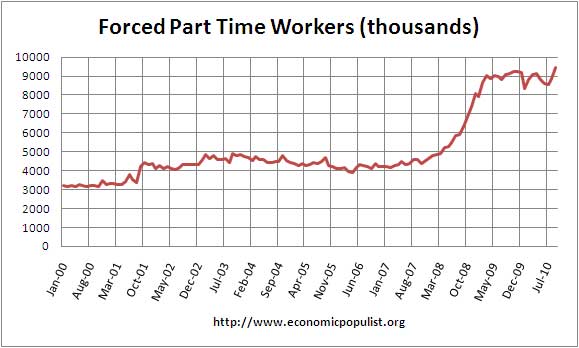 Graphed out for the beyond belief increase is the broader, alternative measure of unemployment or U6.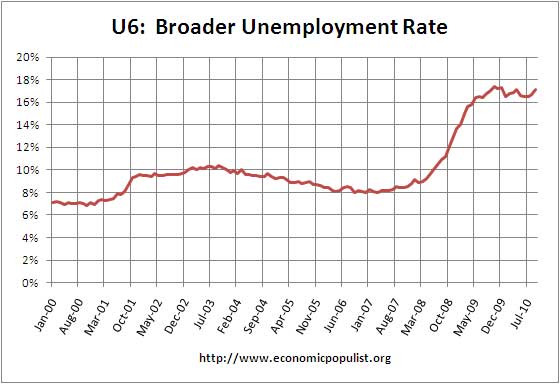 Below is the actual number of nonfarm payroll jobs minus the number of people who need them, or civilian labor force. The point of this exercise is to show while the total number of people in the United States with the potential to work has grown, the actual number of payroll jobs has shrunk, so the jobs deficit is the real deficit to be worried about right now.
Next is a graph of those not in the labor force, of the people who could be working. Notice while population and those who could work, the non-institutional civilian population has grown, the number of jobs has shrunk and those who every month fall off of the count, claimed not in the labor force has increased.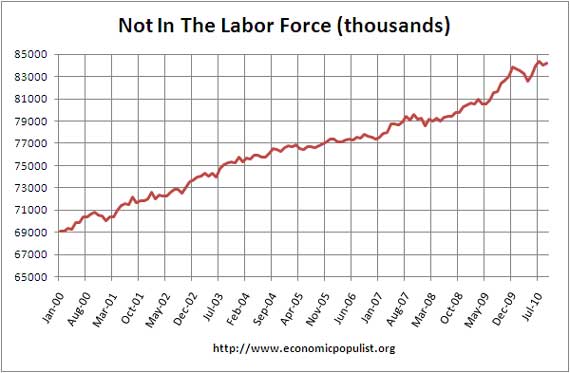 Finally, let's look at the graph of the number of government jobs. A couple of things to notice. Firstly the graph goes back to September 1999. See those two spikes? Those are the temporary Census jobs. Secondly, you see when Bush was in office, how government employment increased? More evidence that infamous political sound byte of smaller government is simply smoke and mirrors.