The newly formed Consumer Financial Protection Bureau will start to oversee the companies who generate credit reports on you. That's Experian, Equifax and TransUnion plus about 30 more.
This action can come none too soon. Unscrupulous debt collectors inaccurately report actions to credit reporting bureaus all the time, especially for Medical bills. Getting these illegal collections or inaccuracies and errors off of one's credit report is next to impossible. Credit reporting agencies simply do not respond it seems to challenges. Experian, as an example, doesn't even have a phone number! Of course you can sue them, but even small claims court is not for the faint of heart and it's not guaranteed one will win, even when being in the right.
One of the biggest problems turning up on credit reports are medical bills. Who does not know billing from Medical facilities is loaded with errors, duplicates and mistakes? Yet more and more Medical companies are turning into the sellers of debt and even bring debt collectors into the Medical practices themselves. That's sloppy, inaccurate medical debt, often for services subpar or not rendered. Literally the health care sector is in the business of selling debt, demanding loan shark interest rates, almost the minute you walk out the door from their facility.
Rodney Anderson, a mortgage banker in Plano, Tex., said he started to notice in 2008 that more of his customers were being hurt by these medical delinquencies. So he kept notes on 5,100 loan applicants over 10 months. He found that 2,200 had at least one medical debt that lowered their credit score, and many of them were unaware of the damage.

"It's the same thing over and over," said Mr. Anderson, executive director of Supreme Lending. "You just don't let $100 go to collections to ruin your credit."
One study found 30 million Americans in 2010 were dealing with collection agencies over medical bills. What is more odious, debt collections agencies refuse to remove their abuse of one's credit report, even when the debt is proved to be paid:
Surprisingly, even after the bills have been paid off, the record of the collection action can stay on a credit report for up to seven years, dragging down credit scores and driving up the cost of financing a home. An estimated 3.4 million Americans have paid-off medical debt lingering on their credit reports, according to the Access Project, a research group funded by health care foundations and advocates of tougher laws on medical debt collectors.
The Federal Reserve found in a recent study half of credit events on reports are medical bills, that's obscene! We have the health care sector turning into debt traders instead of taking care of people!
According to studies published in the Federal Reserve Bulletin, more than half of all accounts in collections on credit reports are medical in nature. Medical collections accounts can stay on a report for up to seven years, even with NO balance due. Collections accounts are reported in the credit history section of a credit report and this section accounts for 35% of a credit score. Because of this, these fully paid "delinquent" medical bills can be devastating. According to a FICO spokesperson, a medical collection — paid or unpaid — can lower a score by 105-125 points for someone with otherwise good credit and a FICO score of 780.
The situation is so bad, literally a breast cancer survivor was jailed for a $280 medical bill. She didn't even owe the money!
In the latest example of aggressive debt collector tactics, an Illinois woman found herself jailed over a bill she didn't even owe in the first place.

Breast cancer survivor Lisa Lindsay of Herrin, Illinois was put in debtors' prison over a $280 medical bill that was sent to her by accident. Even after Lindsay was told she didn't have to pay the bill, it was sent to a collection agency. Eventually state troopers took her from her home in handcuffs. Lindsay ended up having to pay $600 to settle the charges.

Episodes like Lindsay's are becoming increasingly common as the number of debts referred to third-party collection agencies has doubled since 2000. Because one third of U.S. states currently allow debtors to be imprisoned, thousands of Americans have been jailed because they can't pay their bills.
Yes Virginia, America does have debtor's prison. It's so bad, hospitals and Doctor's offices are implanting debt collectors while you're trying to receive health care:
The Attorney General of Minnesota was not amused when reports surfaced that a company had slipped collectors disguised as employees into emergency rooms demanding that patients cough up dough before receiving treatment.

I understand that our hospitals are desperate to recoup an estimated $39 billion for unpaid services but what kind of world do we live in where collectors masquerading as hospital employees, perhaps in possession of personal medical information, demand that the feeble, ill, and even the dying pay outstanding medical bills they could not afford in the first place before seeking emergency care. Does the phrase "Physician do no harm" not apply when a bill is due?
Clearly the health care sector in their new found debt business is so out of control, the IRS has issued new rules to get tax-exempt health care facilities to clean up their debt collections act:
The proposed rules, issued June 22 by the IRS, would apply to the nearly six in 10 U.S. hospitals that operate as tax-exempt, nonprofit charitable hospitals. They would be required to provide additional consumer protections and services to patients who qualify for charity care and medical financial aid. If finalized, the rules would bar the hospitals from using the most aggressive debt collection tactics against low-income patients who don't pay their medical bills.
The CFPB has some startlingly statistics on debt collections in their annual report. Anyone who has been harassed by a debt collector should read this report for many goings on these days are actually illegal.
In 2011, approximately 30 million individuals, or 14 percent of American adults, had debt that was subject to the collections process.
The FTC continues to receive more complaints about the debt collection industry than any other specific industry. Complaints about third-party debt collectors and in-house collectors in 2011 together totaled 142,743 complaints and accounted for 27.16% of all complaints the FTC received.
Below is a chart on the types of complaints the FTC gets on debt collection agencies.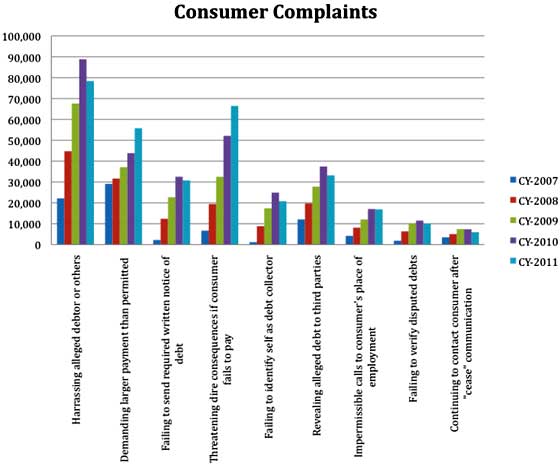 Of course here comes the WTO, out to rip asunder our national laws, under the guise it's somehow trade.
The greater significance of the ruling is in the precedent that it sets of a WTO member being willing to tackle another member's financial policies. Those of us who have raised the alarm about the conflict of the WTO's services agreement with financial regulation have often been told not to worry... that diplomatic restraint would keep a case from ever being launched. Even if launched, the WTO's institutional interests would keep it, the argument went, from ruling against a nation's policies.

Today's ruling totally undermines both aspects of this argument.
Today there is a bill in the Senate, the Medical Debt Responsibility Act, that will stop debt collections agencies from reporting medical bills on credit reports if the debt is actually paid. Folks, we need this bill to pass. This is outrageous to allow our health care sector turn into a bunch of debt selling collectors, ruining people's credit over $100, $200, $500 dollars when that bill has been paid.
Here's what the CFPB head, Richard Cordray said on the credit reporting agencies.
Many people's credit ratings have taken a hit and now they are having a tough time regaining their financial footing. They are blocked from obtaining access to the credit that is often so essential to meaningful opportunity – to get an education, start a business, or buy a house.
Here are the CFPB areas of credit reporting focus, initially.
First, our oversight of the credit reporting companies will help us make sure that the information provided to them is itself reliable. Lenders and others who furnish information to the credit reporting companies are legally required to have policies in place about the accuracy and integrity of the information they report – which includes identifying consumers accurately, correctly recounting their actual payment history, and keeping their information and recordkeeping in order. Otherwise, their sloppy work becomes the true source of harm to the consumer's overall creditworthiness. We want to deepen our understanding of the recordkeeping and reporting practices by lenders and we want to see what the credit reporting companies can be doing to test and screen for the quality of information they receive.

Second, given the number of complaints we have already heard from consumers, and the findings reached in some (but not all) reports on the subject, we want and need to know more about the accuracy of how the credit reporting companies assemble and maintain the information contained in consumer credit reports. Accuracy is critical for consumers and for markets. We recognize that achieving such accuracy takes a great deal of discipline and effort, particularly for a company that is handling and processing a huge volume of information. But because of the increasingly significant role these reports are taking on in our financial lives, the collateral consequences of mistakes can greatly harm consumers. The wrong information may cause them to be denied a loan, to be charged a much higher interest rate, or to be passed over for a job, causing them serious economic hardship. And inaccurate credit reports also deprive lenders of essential information they need to assess credit risk properly.

Third, we are keenly interested in understanding more about the problems and frustrations that consumers tell us they encounter in trying to resolve disputes about the information contained in their credit reports. Some errors may be unavoidable even in the best of systems. But when consumers find what they perceive to be erroneous information in their credit reports, they should not be burdened by unreasonably laborious processes to get errors removed from their files. There are certainly valid reasons why a credit reporting company must conduct a reasonable investigation when a consumer disputes information, and follow the procedures outlined in the law. But the harm done by errors is borne above all by consumers, and they deserve straightforward, effective, and timely mechanisms for addressing disputed items.
Bottom line, the current situation with credit reporting agencies is untenable. Anyone claiming to be a creditor is somehow allowed to make a claim on your credit report. Yet you, the individual, try to get bogus information and claims off of your financial history, find it is next to impossible.
What people need to do is contact the CFPB, submit a complaint about medical bills being inaccurately listed on your credit report. You can get a free copy on your credit report here from the FTC. Truly, anyone who had any medical care knows insurance companies fire off multiple reimbursement notices and on and on. Meanwhile these unscrupulous medical practices are selling your bill for a cut to some unethical debt collections agency. In turn that agency is abusing credit reporting by posting these debts to your credit report. It's outrageous and must be stopped.
Let's just hope something finally happens. Today, instead of putting a gun to people's head, a new weapon is used to threat and coerce. That's your credit score.