Update 4:
This week we got a partial answer to the query posed by the title to this series: one of my two possible outcomes was a deflationary recession (an old fashioned "bust"), featuring (-1.5%) or greater deflation on an annual or shorter basis. This week we learned that in the August-October period CPI already declined (-1.5%). Since November and December have a seasonal bias towards slightly negative (-.1 and -.2 respectively) monthly CPI readings, this deflationary recession will almost certainly last into 2009.
The question remains: could we pull out into at least an anemic economic recovery later in 2009? This second scenario is based on the Kasriel indicator which consists of positive real M1 money supply on a quarterly basis, plus a positively sloping yield curve 12 months previously, which perfectly coincides (sometimes with a slight lag or lead) with recoveries for the period of the last 50 years, and also appears to work for the Great Depression period as well.
I have located an updated graph of the Kasriel indicator, which clearly shows the indicator predicting recovery vs. recession: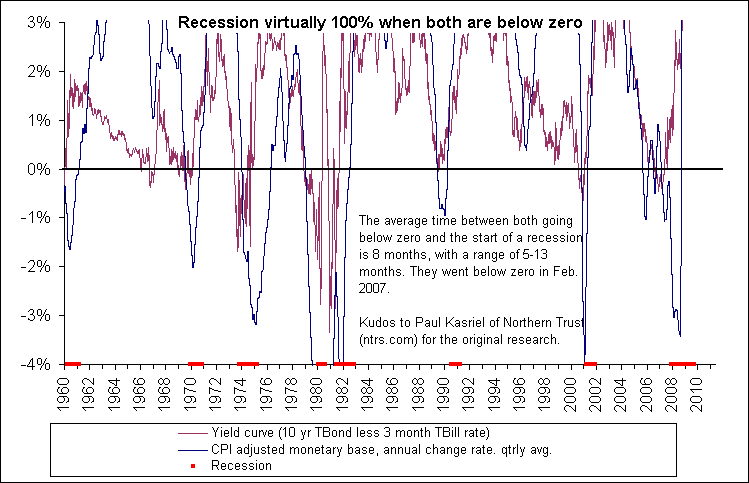 Indeed, back in August, Kasriel himself wrote:
Our base case economic scenario is that the U.S. economy entered a recession in early 2008, will remain in a mild recession throughout 2008 and will begin to experience an anemic recovery in the first half of 2009.... In the second half of 2009, when economic growth picks up enough to stop the upward trend in the unemployment rate, the Fed will start raising the funds rate.
This month he has become more negative, and made no mention of whether or not his indicator coincided with his new, gloomier view:
Given our forecast of contracting real GDP for the five consecutive quarters ended the third quarter of 2009, real aggregate demand will be falling short of real aggregate supply, hence, our forecast of decelerating CPI inflation. .... [W]e doubt that labor will be in a position to negotiate significant wage increases.
The principal reason we are expecting a long recession and a muted recovery is because of the evaporation of capital in the financial system due to credit losses.
Regardless, this week's data, including October CPI declining to 3.7% on a year over year basis, and weekly updates to monetary base and M1 showing continued robust expansion to say the least, continue to suggest that the indicator is on the verge of forecasting recovery: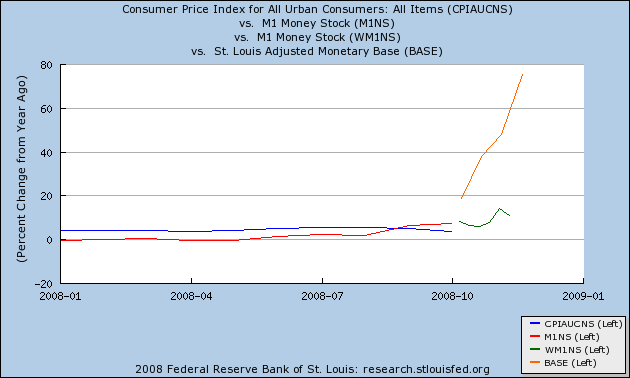 _________________
Update 3:
On Friday we got October M1 money supply and import prices. Both of these add substantially to the emerging picture of deflationary recession vs. tepid recovery in the months ahead. To recap, there are two opposing forces at work in the economy: there is a strong deflationary pull based on imploding credit and bad debt, revealed in collapsing commodity prices in particular; and the Fed and Treasury's attempt to reinflate the economy by pumping vast sums of money into the banking system. The 1000 point weekly (daily?) swings in the Dow Jones Industrial Average of the stock market are tantamount to just how different the two outcomes of deflationary collapse vs. tepid advance might be.
The deflationary summary is that any time in the past 85 years there has been a decline in CPI of -1.5% or more in less than a year, it has coincided with a deflationary recession. The recovery scenario is that any time there has been a positive yield curve in the bond market (long rates higher than short rates) at the same time as narrow money supply (M1) is expanding at a rate greater than the inflation rate for 3 months, an economic recovery has occurred within 6 months thereafter. My original post discussing both indicators, along with the first two updates, can be found here.
To the data:
First, here is the October update for M1 (red), and the weekly advance M1 through Nov. 3(green) along with the monetary base (orange) compared with inflation (blue):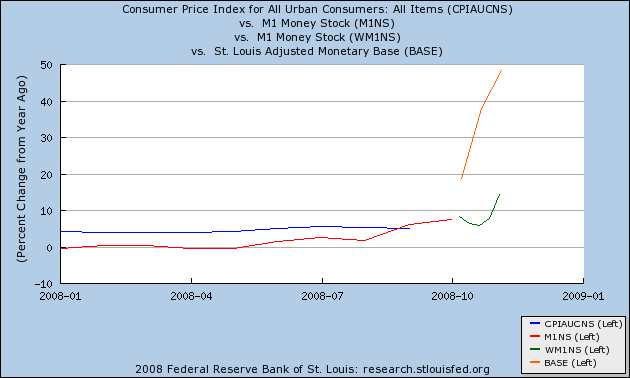 It seems clear from this graph that October M1 will easily exceed the inflation rate for the 2nd month, and the first week of November continued that trend.
Meanwhile, the collapse in import prices, which ran at an annual rate of 21.4% in July, but have collapsed to 6.7% in October (mainly due to the collapse in Oil as well as other commodities):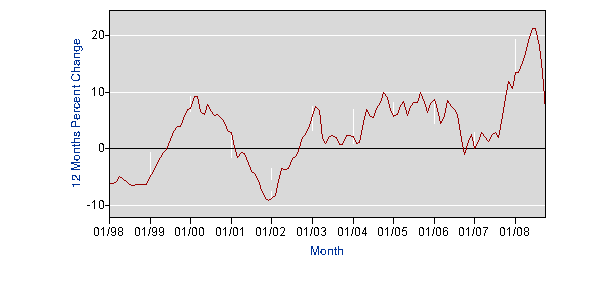 strongly indicates that we will see another deflationary CPI reading when the October number is released on Wednesday of this coming week. This will be the third deflationary reading in a row, heading into the two months (November and December) which have a historical seasonal bias towards deflation to begin with!
At the moment, the best reading seems to be: deflationary consumer recession now, possible tepid recovery by some time in the first half of next year. The second part of that reading is a minority opinion to say the least, but I am glad to note that my contrarian caution about the scope of the consumer collapse is shared by Russ Winter.