The May 2010 ADP private employment report is out with a 55,000 job increase. The ADP reports on private sector jobs, no government, or federal jobs are counted.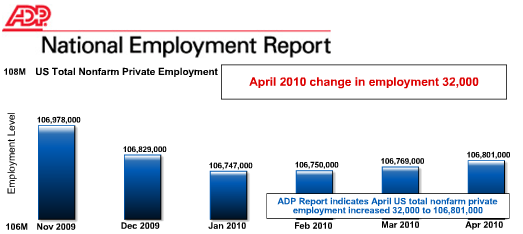 ADP reports the 4 month average is only 39,000 jobs added per month. Below is their breakdown by sector.
May's ADP Report estimates nonfarm private employment in the service-providing sector rose by 78,000, the fifth consecutive monthly increase. Employment in the goods-producing sector declined 23,000 with employment in the manufacturing sector increasing 15,000, the fourth consecutive monthly increase.
Below are the details on construction. Fairly amazing how many people a bubble can employ.
In May, construction employment dropped 41,000. This was slightly less than last month's decline of 42,000. This was its thirty-fifth consecutive monthly decline, and brings the total decline in construction jobs since the peak in January 2007 to 2,191,000. Employment in the financial services sector dropped 8,000, resulting in over three years of consecutive monthly decline.