The NAR reported existing home sales jumped 4.2% from last month and inventories are still a very tight 5.1 months of supply for May 2013. Existing homes sales have increased 12.9% from a year ago. Volume was 5.18 million against April's 4.97 million annualized existing home sales. This is the highest volume level since November 2009 when the first time home buyer tax credit gave an artificial jump to sales. Prices are now through the roof and even the NAR admitted the prices of homes are too high and blames artificially low inventories of homes for sale as the reason.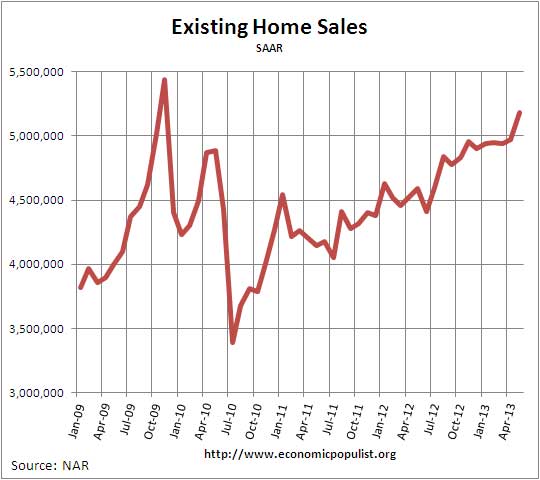 Inventory of existing homes decreased -1.9% for the month, a 5.1 months supply and inventory is down -21.5% from a year ago. Listed inventories are also down -10.1% from a year ago. Short supply partially explains the increasing prices. NAR claims buyer traffic has increased 29% from a year ago. Time on the market is at bubble year levels. From the report:
Forty-five percent of all homes sold in May were on the market for less than a month. The median time on the market is the shortest since monthly tracking began in May 2011; on an annual basis, a separate NAR survey of home buyers and sellers shows the shortest selling time was 4 weeks in both 2004 and 2005.
The national median existing home sales price, all types, is up, now at $208,000, a 15.4% increase from a year ago. Median price has also broken the $200,000 barrier. Even more eerie, the last time there were 15 consecutive months of median existing home price increases was also the height of the housing bubble, March 2005 through May 2006. This is also the sixth month in a row for double digit median price increases. This is the largest jump in annual price increases since October 2005. It is looking like we have a price bubble.
The average home price for May was $255,300, a 11.2% annual increase. The bubble like price increases that may very well have much to do with the Federal Reserve mortgage backed securities purchases, known as quantitative easing. The Fed's move is keeping mortgage interest rates at record lows. This is the first time NAR has mentioned homes are becoming unaffordable.
According to RealtyTrac, foreclosures are down 28% from a year ago.
Foreclosure filings were reported on 148,054 U.S. properties in May, an increase of 2 percent from the 75-month low in April but still down 28 percent from May 2012. .
Below is NAR's breakdown by types of existing home sales by time and distressed property sales have significantly decreased.
Distressed homes – foreclosures and short sales – accounted for 18 percent of May sales, unchanged from April, but matching the lowest share since monthly tracking began in October 2008; they were 25 percent in May 2012. Fewer distressed homes, which generally sell at a discount, account for some of the price gain.

Eleven percent of May sales were foreclosures, and 7 percent were short sales. Foreclosures sold for an average discount of 15 percent below market value in May, while short sales were discounted 12 percent.
There are still a significant percentage of all cash buyers, institutional investors buying homes. First time home buyers stood at 28% of existing home sales.
First-time buyers accounted for 28 percent of purchases in May, compared with 29 percent in April and 34 percent in May 2012.

All-cash sales were at 33 percent of transactions in May, up from 32 percent in April and 28 percent in May 2012. Individual investors, who account for many cash sales, purchased 18 percent of homes in May; they were 19 percent in April and 17 percent in May 2012.
Here is our overviews of existing home sales not revised. NAR does not mention their revisions in their press releases.
The correct Shakespeare quote is actually Double, double, toil and trouble, but for the purposes of a returning housing bubble, we'll use the misquote.