The BLS released their displaced workers survey and the results paint a dark and foreboding picture for the American worker. Of the people who lost their jobs through offshore outsourcing, plant closures, business failures and layoffs during 2009-2011, by January 2012 only 56% of them had gotten another job. These are people who held the job they lost three years or longer and there were a whopping 6.12 million people in this category.
What's more disturbing, as if that's not enough, is the age breakdown of displaced workers who were in a job three years or longer. While the job losses seem reasonably evenly distributed, those finding other jobs appear not to be, as shown in the below four pie charts.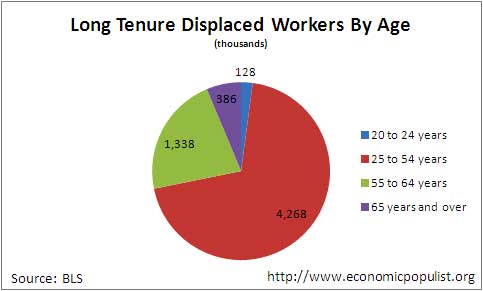 As we can see the older one is, the less chance of getting a new job and what a surprise in our nation of institutionalized age discrimination.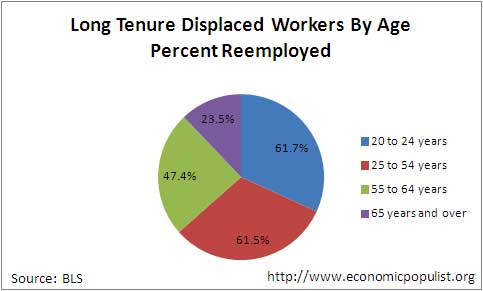 Below are the percent still counted as unemployed by age, notice the larger percentages of older workers. Bear in mind the age brackets the BLS provides are not evenly distributed and the majority of workers are between the ages 25-54.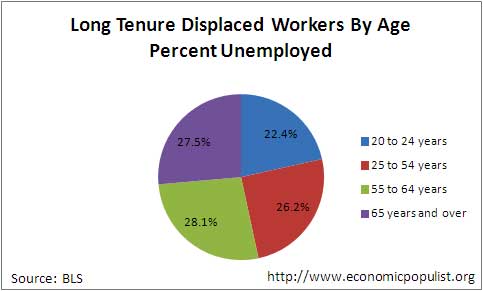 Below are those not in the labor force of these same workers who lost their jobs. One can be not in the labor force due to retirement, stop looking for work, or plain be out of work so long one is no longer counted. How many of those 50 year olds do you believe retired after losing their jobs, their homes and their savings?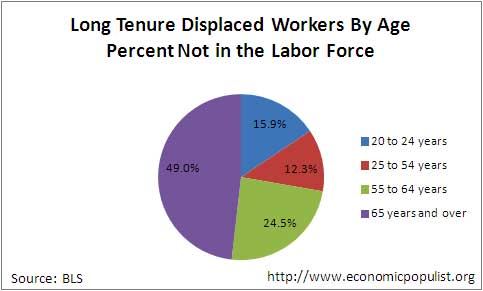 The BLS refers to people who held down the same job for three years or longer long tenured. Here is the BLS definition of displaced workers:
Displaced workers are defined as persons 20 years of age and older who lost or left jobs because their plant or company closed or moved, there was insufficient work for them to do, or their position or shift was abolished.
Of the long term displaced workers, 30.8% report they lost their job because the place closed or was moved. A moved business these days usually means offshore outsourcing, although it could also mean to another state and no, China is not classified as the 51st...yet.
More telling is how 19% of those long term employees who were displaced were in manufacturing jobs with 70.3% of those manufacturing workers losing their jobs being in durable goods manufacturing.
Business failures were high as well, so don't assume all 30.8% of those people had their jobs offshore outsourced. The Census reports 776,000 businesses failed in 2009, or 12.5% of all firms.
People who managed to get another job didn't fare too well either, almost a third took a major pay cut.
Of the 3.0 million displaced workers who lost full-time wage and salary jobs during the 2009-11 period and were reemployed, 2.4 million had full-time wage and salary jobs in January 2012. Of these reemployed full-time workers who reported earnings on their lost job, 46 percent were earning as much or more in January 2012 as they did at their lost job. About one-third reported earnings losses of 20 percent or more.
If one adds in the short term job holders the numbers of displaced workers become even more astounding:
An additional 6.7 million persons were displaced from jobs they had held for less than 3 years (referred to as short-tenured). Combining the short- and long-tenured groups, the number of displaced workers totaled 12.9 million from 2009-11.
Another reason this survey is so devastating isthe great job slaughter was already somewhat over by January 2009 as shown by the below job tally per month chart. These statistics are only for people who lost their jobs from January 2009 until December 2011.
Another depressing statistics are of these same displaced workers who were at the job three years or longer, 60.6% got no advance notice their job was gone. Nice payback isn't it? Walk into work one day to get the infamous you're fired and walked out the door by security treatment.
Service jobs and sales people had the chance of getting a new job as a flip of a coin, around 50%. Professional workers' odds of getting a new job were around 60%.
Among the major industry groups, workers displaced from transportation and utilities (67 percent) had a reemployment rate that was higher than the overall reemployment rate for displaced workers. Workers displaced from wholesale and retail trade were the least likely to be reemployed (50 percent). (Workers were not necessarily reemployed in the same industries from which they were displaced.)

Reemployment rates differed by major occupation, but were highest for those displaced from management, professional, and related occupations and from natural resources, construction, and maintenance occupations (60 percent each). They were lower for those displaced from service occupations and sales and office occupations, 50 percent and 51 percent, respectively.
This report is absolutely devastating for people have a need to work, a right to work, it's an absolute necessity to survive. Having reemployment rates at the same odds as flipping a coin is completely unacceptable and we hope you are disgusted with politicians and policy makers as we are.