Offshore outsourcing manufacturing to China loses American jobs. Now it seems even Wall Street traders are figuring that out. Wall Street is finally reading research on job losses, currency manipulation and China.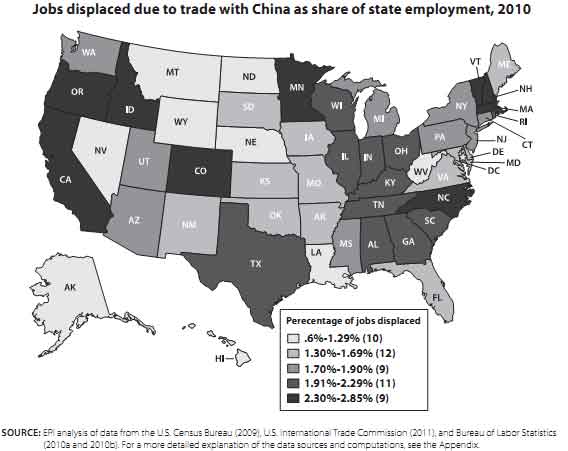 The above map is from a new EPI briefing paper on the job losses for each State, attributable to China, from 2001 to 2010 California alone has lost 454,600 jobs, or 2.74% of their total jobs. California has one of the highest unemployment rates in the nation.
China eliminated or displaced 2.8 million jobs, 1.9 million (69.2 percent) of which were in manufacturing. The 1.9 million manufacturing jobs eliminated or displaced due to trade with China represents nearly half of all U.S. manufacturing jobs lost or displaced between China's entry into WTO and 2010
While Americans were being fired like Schindler's List in 2009, guess who was hiring? U.S. corporations operating in China.
The 2.8 million jobs lost or displaced in all sectors include 453,100 jobs lost or displaced from 2008 to 2010 alone, even though imports from China and the rest of world collapsed in 2009.
Almost a third of the job losses were from those jobs of tomorrow, or advanced, high tech jobs and we haven't even mentioned India's BPO industry or the use of foreign guest workers to import cheaper labor, displace U.S. workers yet, where millions of additional jobs, especially those requiring college degrees, have been lost.
The trade deficit in the computer and electronic parts industry grew the most, displacing 909,400 jobs—32.6% of all jobs displaced between 2001 and 2010.
If a corporation didn't fire the American and offshore outsource the job, they squeezed worker wages instead. EPI found the average full-time worker lost $1,400 a year in wages.
Unfortunately Wall Street still thinks manufacturing offshore outsourcing is all about cheap labor:
China is taking American jobs, labor unions, politicians and economists, have accused for some time. The logic is simple. While a manufacturing job in the U.S. may pay $50 an hour, when salary and benefits are factored in, Chinese factory laborers make little more than a few hundred dollars a month.
The 24/7 article doesn't realize it's the finished good where the profit margins are greatest, not labor costs. Additionally multinational corporations pour capital, investment into so called emerging economies in herd style behavior. Much of the U.S. plant, manufacturing move to China was conditional by the Chinese government, in order to gain access to China's mythical 1.4 billion person consumer markets.
Foreign-invested enterprises (both joint ventures and wholly owned subsidiaries) were responsible for 55% of China's exports and 68% of its trade surplus in 2010 (Scott 2011b). Outsourcing —through foreign direct investment in factories that make goods for export to the United States—has played a key role in the shift of manufacturing production and jobs from the United States to China since it entered the WTO in 2001.
The statistical reality shows China's currency manipulation is the #1 reason the United States has lost 2.8 million jobs to China in the last decade.
But Wall Street's assumptions, it's cheaper to manufacture in China, are not always true. ABC News has been running a series, Made in America, where the reporters find a public institution, promoting and selling Chinese goods. ABC then goes out, and buys equivalent American goods. What they found is more often than not, it's cheaper, or the same price to buy American made goods.
Congress might get serious about confronting China's currency manipulation, so what's the next move for the Chinese? Why remove the dollar as the reserve currency, of course.
China hates having to rely on the dollar. Officials are troubled by the Federal Reserve's notably loose monetary policy and by America's rapidly rising public debt. They fear that stimulus measures put in place to revive America's flagging economy will sooner or later generate a burst of high inflation and weaken the dollar. That would hurt holders of US government bonds, including China. Around $2 trillion of its currency reserves of $3.2 trillion are in dollars, mostly in bonds. On August 5th America lost its triple-A credit rating from Standard & Poor's because it had failed to come up with a credible plan to cap its public debt. China's official news agency, Xinhua, immediately called for a new reserve currency.
The good news is finally, finally Wall Street is starting to connect the dots between bad trade deals, globalization and the utter implosion of the U.S. economy. The question next is will they vote with their actual trades, investments, to start giving America and the U.S. worker an even break. Since our government could care less about the U.S. worker, maybe finally investors will.
That said, don't hold your breath. The typical reaction on Wall Street when mass firings are announced by a company is to go buy more of their stock. Wall Street still believes Sherman's March style worker slash and burn, rape and pillage is great for corporate profit bottom lines.