GDP hit 3.5% in Q3 2009.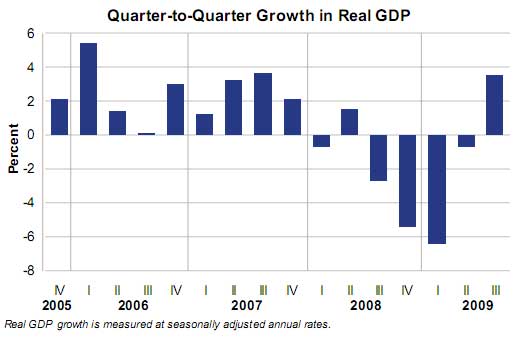 Src: BEA
Yea, Yippee! What's behind the numbers?
A reminder, GDP is:
where
Y=GDP, C=Consumption, I=Investment, G=Government Spending, (X-M)=Net Exports.
So, what components of GDP contributed to such a nice increase of economic growth? In Q3:
Price index - +1.6%
Consumption - +3.4%
Durable Goods - +22.3% (cash for clunkers)
Nondurable goods - +2.0%
Non-Res. investment - -2.5%
Residential Fixed Investment + 23.4%
Exports - + 14.7%
Imports - +16.4%
Gov. spending - +7.9%
Private Inventories - + 0.94%
So, Consumption, contributing 2.4% of the Q3 GDP, and gross private investment (at +11.5%) were the reasons GDP increased. So in other words, people bought new cars on cash for clunkers and bought more overpriced (still) houses with a first time home buyer's tax credit and distressed sales.
Great. Pom poms back in.
Personal income decreased -0.5% in Q3. Disposible personal income: -0.7%, yet get this, personal outlays increased +5.8% and the personal savings rate dropped to +3.3%.
Ok! So Americans personal income continues to drop but who cares, they are consuming more...
Wasn't this out of balance economy the original problem?