The September advance monthly sales for retail and food services was released today and the total is down from August -1.5%.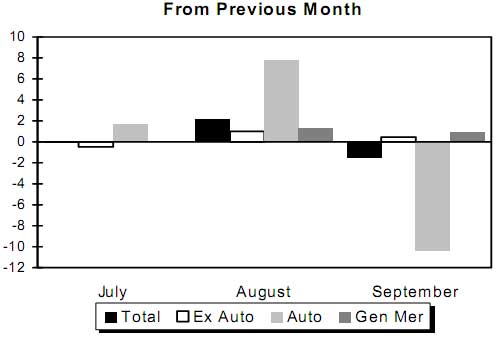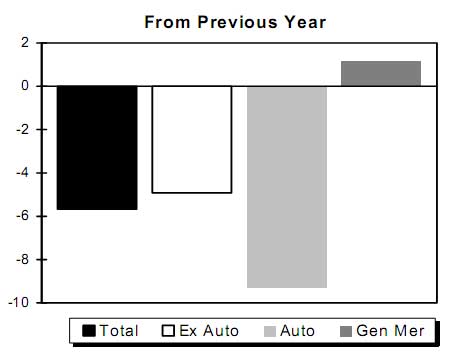 The U.S. Census Bureau announced today that advance estimates of U.S. retail and food services sales for September, adjusted for seasonal variation and holiday and trading-day differences, but not for price changes, were $344.7 billion, a decrease of 1.5 percent (±0.5%) from the previous month and 5.7 percent (±0.7%) below September 2008.

Total sales for the July through September 2009 period were down 6.6 percent (±0.3%) from the same period a year ago. The July to August 2009 percent change was revised from +2.7 percent (±0.5%) to +2.2 percent (±0.2%).

Retail trade sales were down 1.7 percent (±0.7%) from August 2009 and 6.4 percent (±0.7%) below last year. Gasoline stations sales were down 25.3 percent (±1.3%) from September 2008 and building material and garden equipment and supplies dealers were down 13.0 percent (±2.0%) from last year.
No surprise to EP readers but from August, the advanced September Auto Dealer sales are down -11.8%. Another is miscellaneous store retailers are down -1.9% from last month.
EconomPic Data has an additional graph showing some more strength in other retails sales data minus the crash and burn in auto sales after the cash for clunkers spike.