Welcome to the weekly roundup of great articles, facts and figures. These are the weekly finds that made our eyes pop.
RealtyTrac on Foreclosures
Below is the latest foreclosure map from RealtyTrac. Since when is America painted red with economic disaster.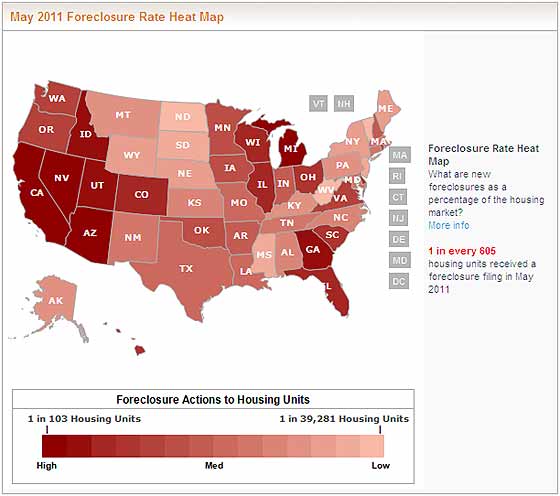 1 in every 605 housing units received a foreclosure filing in May 2011. RealtyTrac's latest home foreclosure report is a real horror show. While foreclosures have slowed, that ain't great news. Banks are sitting on the properties, unable to sell them.
Dan Rather Pipes Up for U.S. Tech Workers
Dan Rather gets the facts right. Not only is there no shortage of Science and Engineering talent in the U.S., there literally are not enough jobs to employ those graduating from college in it.
Recent research shows the number of STEM students graduating each year from U.S. universities far exceeds the number of new jobs.

And while U.S. corporations decry the shortage of tech talent -- industry data indicates there are upwards of 200,000 tech workers unemployed across the country today.
Great call out on Obama's team labor arbitrage as economic policy agenda.
Crackdown on Use of Illegal Labor
The Obama administration is supposedly cracking down on 1000 employers of illegal immigrants. So says the Wall Street Journal. There are some money quotes from the U.S. Chamber of Commerce which prove illegal immigration is all about labor arbitrage:
Businesses across the U.S. that rely on low-skilled labor are working to stave off Immigration and Customs Enforcement audits, which can lead to the loss of large numbers of employees, reduced productivity and legal expenses.

Wednesday's surge in so-called silent raids drew criticism from both the U.S. Chamber of Commerce and immigrant advocates.
Lots of quotes about lost productivity, which is a fancy way of saying we need illegal labor to increase our profit margins.
29 Facts about Income Inequality
Business Insider loves slide shows, but this one, 29 Facts about Extreme Income Inequality is worth viewing.
Q2 GDP Downgrades
Here on the Economic Populist we often like to calculate out the effects of monthly economic reports on GDP, but this is a nice collection of posts on how Q2 GDP sure ain't gonna be stellar. Don't expect GDP to go negative....yet, but we have one month to go on raw monthly data too.
Soylent Green
If this were false it would be a lot more fun. Japanese Researchers can now literally tell you to go eat shit. They have made steak from human excrement.
Reverse Mortgages
Banks are hanging it up on reverse mortgages. Lots of excuses about people not paying their taxes and insurance. Has nothing to do with falling values on residential property now, could it?
McKinseyGate
Paul Krugman is calling out McKinsey on a bogus white paper. What Krugman doesn't mention is the numerous bogus white papers McKinsey Institute has released over the years. Congress is railing on McKinsey:
Refusing to release the underlying questions and methodology undermines the credibility of the findings. We are concerned that, if the survey based its conclusions on a questionable instrument and potentially biased methodology, McKinsey may have provided the American public with invalid information about the impact of the Affordable Care Act.

We are therefore writing to obtain additional information that would allow interested parties to objectively assess the implications of the report's findings. We ask that you provide the following information:
I don't recall ever Congress calling out a bogus lobbyist white paper as spin before. Wouldn't it be great if at least, the white paper policy came about, trashing these realms and volumes of bunk and spin?
What's Wrong with the Economy?
This comes way of Angry Bear, Robert Reich Draws What's Wrong with the Economy in 2 minutes.
I think this is a first where Reich has acknowledged all economic things static, importing more people will cause worker displacement and conflict, of course dismissing it as fear. But bottom line, he is correct, you cannot grow an economy, especially in the United States without a strong middle class.