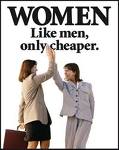 The Supreme Court just landed a body blow to women. They sided with Wal-Mart on a class action sex discrimination lawsuit by blowing apart the class action status of the suit. The court was unanimous that the case was too big, yet the decision was split to let the case be reformed for another chance. The court ruled 5-4 against the women of Wal-Mart.
The case was seeking damages for 1.5 million women. In 2001, Wal-Mart had only 14% of women in management and 80% of women in the lowest paid positions. Wal-Mart also allowed local managers to use their own discretion in hiring and promotion decisions. NPR:
When the case was filed 10 years ago, women held two-thirds of the lowest-level hourly jobs and only one-third of the management jobs; and that women were paid on average $1.16 less per hour than men in the same jobs, despite having more seniority and higher performance ratings.
A lower court previously ruled the case should encompass all women who work at all Walmart stores. SCOTUS used the phrase commonality and quoted statistics to claim because 1.5 million women didn't have the same common experience, magically 1.5 million women at Wal-Mart are not subject to systemic discrimination. From the actual ruling:
By contrast, respondents filed some 120 affidavits reporting experiences of discrimination—about 1 for every 12,500 class members—relating to only some 235 out of Wal- Mart's 3,400 stores. More than half of these reports are concentrated in only six States (Alabama, California, Florida, Missouri, Texas, and Wisconsin); half of all States have only one or two anecdotes; and 14 States have no anecdotes about Wal-Mart's operations at all. Even if every single one of these accounts is true, that would not demonstrate that the entire company "operate[s] under a general policy of discrimination," Falcon, supra, at 159, n. 15, which is what respondents must show to certify a companywide class.
Right o. I think anyone who has ever walked into a Wal-Mart or simply think of some examples, sees women working as cashiers and men as managers and isn't it by statistics that this case came about? Just because 1.5 million women Wal-Mart employees did not file a case doesn't mean discrimination is not systemic at Wal-Mart. Sigh.
Justice Antonin Scalia wrote the majority case opinion:
Commonality requires the plaintiff to demonstrate that the class members have suffered the same injury.
Justices Ruth Bader Ginsburg, Stephen Breyer, Sonio Sotomayor and Elena Kagan, all of the women on the court, dissented on commonality.
"The District Court's identification of a common question, whether Wal-Mart's pay and promotions policies gave rise to unlawful discrimination, was hardly infirm," she added. "The practice of delegating to supervisors large discretion to make personnel decisions, uncontrolled by formal standards, has long been known to have the potential to produce disparate effects. Managers, like all humankind, may be prey to biases of which they are unaware. The risk of discrimination is heightened when those managers are predominantly of one sex, and are steeped in a corporate culture that perpetuates gender stereotypes."
Can you imagine the implications? Let's say all those experiencing injury by a bad drug, must they all experience the exact same side effect for a class action to be certified?
Bottom line, obtaining any justice through our courts just became even more impossible for regular people, women or not.
Bloomberg notes this ruling may cripple future class actions and notes just how many other class actions for discrimination were in the pipe:
Units of Cigna Corp., Goldman Sachs Group Inc., Bayer AG, Toshiba Corp., Publicis Group SA, Deere & Co. and Costco Wholesale Corp. all face gender discrimination complaints that seek class action status. More than 20 companies supported Wal- Mart at the Supreme Court, including Intel Corp.,Altria Group Inc., Bank of America Corp., Microsoft Corp. and General Electric Co.
Without a class action, an individual has pretty much no chance against a large corporation. Corporate legal teams have unlimited resources. They can delay a case and bury an individual in legal fees. A common strategy is also to attack that individual in order to justify the systemic discrimination in the workplace. Only a class action can combat these legal maneuvers.