The January 2012 monthly unemployment figures show the official unemployment rate dropped -0.2 percentage points to 8.3% and the total jobs gained were 243,000. Total private jobs came in at 257,000. Government jobs dropped -14,000. Information jobs dropped by -13,000 and financial services payrolls dropped by -5,000. All other major job categories had payroll gains.Temporary jobs increased 20,100. Manufacturing gained a much needed 50,000 jobs.
The BLS not only incorporated the 2010 Census data but also revised their payroll statistics all the way back to 2007. Part of this is their annual payroll benchmarks, calculated from March 2011 tax receipts, which modified their monthly change statistical model, adjustments to the businesses started and ended and finally the seasonal adjustment algorithm was modified. Finally, the BLS changed their NAICS categorizations. NAICS stands for North American Industry Classification System and is a way to categorize business establishments by their economic activity and the changes did not affect payroll statistics much. Graphed below are the monthly differences between reported payrolls from before the benchmark adjustments and after.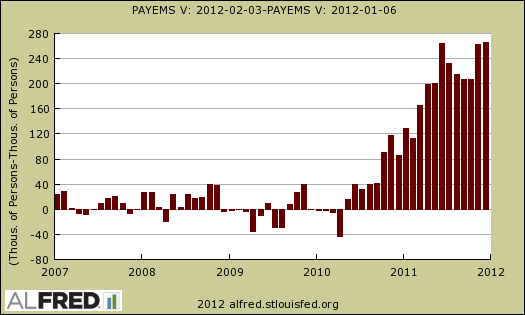 January's 243,000 jobs are not only from the business survey results, but also statistically extrapolated from those survey results. There were also monthly revisions to payrolls for December and November 2011. These revisions come from business survey reports. For more information on how the BLS tabulates non-farm payroll jobs, see this article, Under the Hood of the Employment report.
The change in total nonfarm payroll employment for November was revised from +100,000 to +157,000, and the change for December was revised from +200,000 to +203,000.
The grand whopping cumulative total, seasonally adjusted, is a 266,000 upward revision on nonfarm payroll jobs by December 2011. Below is a bar graph of the nonfarm payrolls differences in seasonally adjusted data. The blue bars are before the revisions were incorporated, the red after.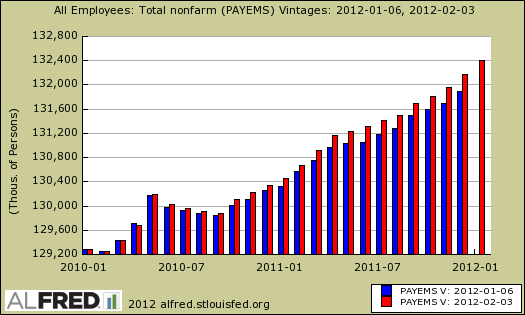 Where does that leave us with jobs? The start of the great recession was declared by the NBER to be December 2007. By looking at the start of the great recession, we can calculate how many jobs we're still down from that fateful 2007 December. Just last month were were down -6.083 million jobs. With the bench mark revisions, plus the real January job growth, the United States is now down -5.573 million jobs.
Additionally the 2010 Census data was incorporated into part of the unemployment survey which gives unemployment rates and demographic data. Previously unemployment rates, participation rates were based on the 2000 Census data, with statistical yearly adjustments. Here's the crux of what changed:
The adjustment increased the estimated size of the civilian noninstitutional population in December by 1,510,000, the civilian labor force by 258,000, employment by 216,000, unemployment by 42,000, and persons not in the labor force by 1,252,000.
Below is a running tally of how many official jobs permanently lost since the official start of this past recession, with the new numbers. Increased population growth, implies the United States needs to create at least 10.27 million jobs or self-employment. This estimate assume a 62.7% civilian non-institutional population to employment ratio, as it was in December 2007, which implies an additional 4.69 million jobs were needed over a 49 month time period beyond the ones already lost.
8,230 million of the 26.87 million part-timers working low hours are doing so because they cannot get full time jobs. We cannot compare the change from last month due to the Census adjustments added to the December data. So, one needs to realize that's a hell of a lot of people stuck in part-time jobs who need full-time work.
The increasingly low labor participation rate is now at 63.7%. If we go back to December 2007, the labor participation rate was 66%. The highest civilian labor participation rate was in January 2000, at 67.3%. What this means is there are over 5.572 million people not be accounted for in the official unemployment rate, in other words counted as employed or unemployed, who probably need a job and can't find one. That's in addition to the official 12.758 million unemployed.
The employment to population ratio is now 58.5%, no change from last month and at record lows. You have to go back to the severe recession of 1983, October to find such low ratios. The uber-low ratios are not a structural change, such as all families decided to have a stay at home caretaker, or magically a host of people could retire early, or magically all young people went to school as some want to claim. The low employment to population ratio are people dropping out of the labor count. Once can see this simply by the cliff dive on the ratio during 2008-2010. There is no way magically, suddenly, a huge increase of population volunteered to drop out of the labor force. These ratios are with the 2010 Census population adjustments incorporated.
These numbers are important because unemployment is a ratio, percentage or during a limited time period, the number of people actively looking for a job and counted. Many people are not counted in the official unemployment statistics, yet when looking behind the official numbers it's clear America has more potential workers and less jobs in so called recovery than during one of the worst post WWII recessions.
The January 2012 unemployment report incorporated many statistical adjustments. Additionally one cannot compare the monthly changes between December and January because all of the adjustments are added to the December 2011 data only, not spread out over the entire year, which makes a monthly comparison statistically invalid.
We'll be reviewing sections of this months unemployment report in excruciating detail so check back! Leave your questions in the comments and we'll try to dig out the answer in the BLS data.