The August 2012 state unemployment rates climbed in 26 states and 21 states plus the District of Columbia show a decrease in payrolls. Another month and another horrific set of state employment statistics.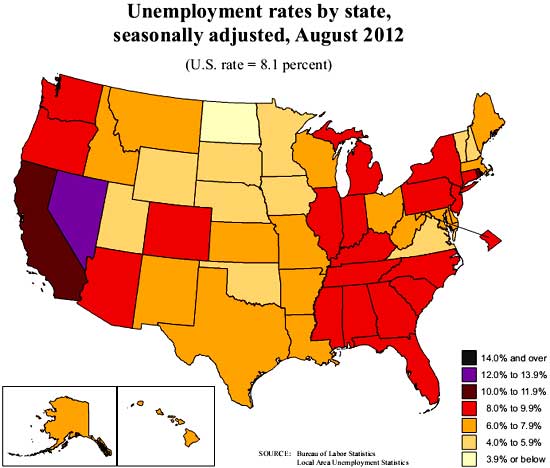 Twelve States unemployment rate didn't change and 12 plus the District of Columbia saw their unemployment rates drop for the month.
The national average unemployment rate is 8.1%. Yet from the above map, we can see some states unemployment rates just don't really budge. Nevada still has the highest unemployment rate, at 12.1%. Rhode Island came in at 10.7%, California, 10.6%. States with unemployment rates above 9.0% are New Jersey at 9.9%, North Carolina at 9.7%, South Carolina 9.6%, Michigan at 9.4%, Georgia at 9.2% , Illinois at 9.1%, New York at 9.1% and Connecticut at 9.0%. Most states unemployment rate didn't change significantly from last month. Of the ones that did, most were increases. Below is the list of States whose unemployment rate showed any movement.
Connecticut (+0.5 percentage point), Michigan (+0.4 point), New Hampshire and Vermont (+0.3 point each), and Iowa, Massachusetts, and Pennsylvania (+0.2 point each). Hawaii and Utah registered the only significant declines over the month (-0.2 percentage point each)
Payrolls also barely budged by percentages.
In August 2012, nonfarm payroll employment increased in 28 states, decreased in 21 states and the District of Columbia, and was unchanged in Colorado. The largest over-the-month increase in employment occurred in Texas (+38,000), followed by Florida (+23,200) and Missouri (+17,900). The largest over-the-month decreases in employment occurred in Virginia (-12,400), the District of Columbia (-11,200), and Washington (-8,800).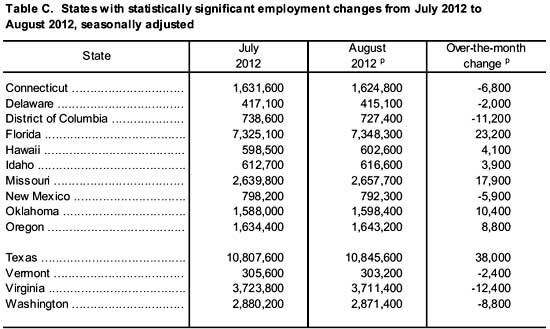 The monthly change in payrolls isn't so hot when one looks at the percentages. Remember California is the largest state by population followed by Texas. Almost 12% of America's population lives in California.
For the year, unemployment rates actual rose in some States. While 42 states saw their unemployment rates drop, along with D.C., seven states had unemployment rate increases and one didn't change at all. This also doesn't mean that much since so many are now no longer counted as being unemployed who actually do want a job.
The change in actual jobs from a year ago is also weak considering how many unemployed, officially at 12.5 million, there actually are.
Over the year, 27 states experienced statistically significant changes in employment, 26 of which were increases. The largest increase occurred in California (+298,700), followed by Texas (+259,500), New York (+121,900), and Ohio (+98,300). The decrease occurred in New Mexico (-13,300).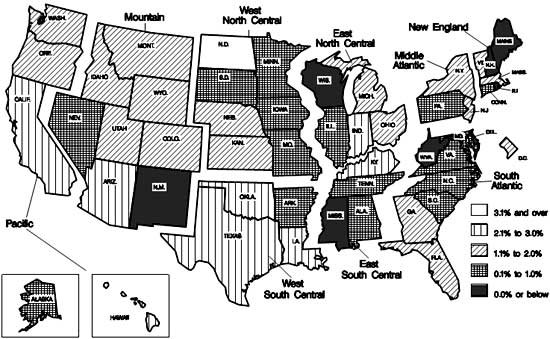 The Pacific region of the country has the highest unemployment rate, 10.0%. That's California, Oregon, Washington, Alaska and Hawaii. West North Central, which includes North Dakota, South Dakota, Minnesota, Iowa and Missouri had the lowest unemployment rate by region, 5.9%. North Dakota is the place to get a job, clearly, their unemployment rate is an astounding 3.0%.
Here is last month's state unemployment overview.