Just when you are lulled into sleep, thinking the financial crisis is over, here comes the World Bank with different ideas. While they start with how the world has economically recovered and all is well, later in the report are some not so swell numbers for the U.S. as well as warnings that the Globe could return to the financial crisis of 2008. Below is the World Bank's latest GDP growth projections for 2011 and 2012. Amazing the United States is categorized as high income with almost 14% of the nation needing food stamps and half of America working earn $26,000 dollars or less.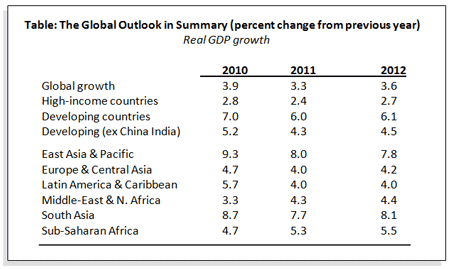 The recovery in many high-income countries (and several economies in developing Europe and Central Asia) has not been strong enough to make major inroads into high unemployment and spare capacity.
In other words, more dismissive acknowledgment that America has a jobs crisis and the economic recovery is happening in developing nations, although I'm not sure how the globe's second largest economy, China, is classified as developing. The World Bank is really focused on emerging economies with almost an attitude of gee wiz, those countries have to be raised out of poverty, regardless of how many Americans and Europeans fall into it. Most of the growth is in emerging markets, not the United States.
Developing countries domestic demand is playing a major role in the recovery, representing 46 percent of global growth in 2010. GDP in low- and middle-income countries expanded 7 percent during 2010 (5.2 percent excluding India and China) and is projected to increase 6.0 and 6.1 percent in 2011 and 2012. As such it will continue to outstrip growth in the high-income countries (2.8, 2.4 and 2.7 percent in 2010, 2011 and 2012)
Below is a map of nations and their potential GDP, or what their economies could be doing, versus what they are doing. Notice America in the negative zone.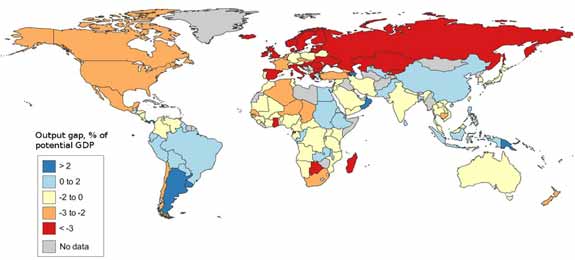 Now here comes the more dire warnings from the report:
Serious tensions and pitfalls persist in the global economy, which in the short-run could de-rail the recovery to differing degrees. These include the possibility that:

Market concerns over debt sustainability in Europe escalate
Continued very low interest rates in high-income countries once again prompt large and volatile flows of capital toward eveloping countries that contribute to destabilizing movements in exchange rates, commodity prices, and asset-prices.
Although real food prices in most developing countries have not increased as much as those measured in U.S. dollars, they have risen sharply in some poor countries; and if international prices continue to rise, affordability issues and poverty impacts could intensify.

Longer-term risks center around the possibility that policy in the economies most directly hit by the crisis fail to shift focus from short-term crisis management toward measures that address the underlying (and difficult to resolve) structural issues that contributed to the crisis in the first place.

These include:

Putting in place credible plans for restoring fiscal sustainability.
Placing more emphasis on fiscal measures that facilitate the re-employment of displaced workers; and, in many countries, programs to improve longer-term competitiveness.
Completing the re-regulation of the financial sector.
Pursuing policies that permit exchange rates to gradually adjust in-line with relative fundamentals.
Reducing the volatility of major reserve currencies in order to sustain confidence in them as stores of value and facilitators of trade.
Notice they refer to financial reform needing to be completed. That's right, the legislation called financial reform....wasn't really.
You know all of that easy money at zero percent interest, done under the guise banks would loan to Americans, credit would ease and we'd see investment in America?
Seems investors had other ideas:
Capital flows to developing countries (especially to nine middle-income countries*) picked up in 2010, in part because persistent low interest rates in certain high-income countries led investors to seek higher yield in developing countries. Net international equity and bond flows to developing countries rose sharply in 2010, rising by 42% and 30% respectively, with nine countries receiving the bulk of the increase in inflows. Foreign direct investment to developing countries rose a more modest 16% in 2010, reaching $410 billion after falling 40% in 2009. An important part of the rebound is due to rising South-South investments, particularly originating in Asia.
So, our cheap money is going to develop Asia while America is stuck with the same higher consumer interest rates, no jobs and even more manufacturing going overseas.
Now we find out there is additional risk in yet another financial crisis, this time with Europe. Most probable is the projection that 2011 will be the year of economic deceleration, obviously something the United States cannot handle with crisis level unemployment rates. Wonder why that isn't in the list of events that could cause a second global recession?
The World Bank has a terrible website, but the report is Global Economic Prospects 2011, upper right corner. In the report are country specific GDP projections, details on the various debt ratios of Greece, Ireland and international trade dependencies and more graphs, data to justify the above conclusions and overview.