The attack on unions has been clearly effective. America's workers who are members of a union declined by 0.5 percentage points in 2012 to a low of 11.3%. In 1983 20.1% of all workers were members of a union and in 2011 11.8% of America's employed were union members. We have not seen union membership rates this low since the Great Depression.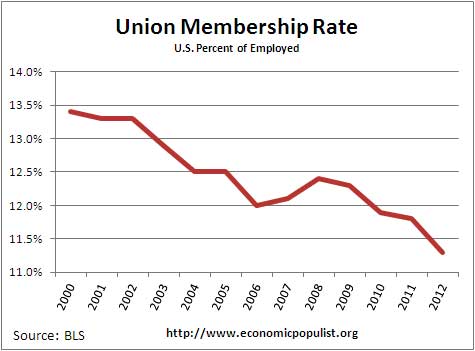 In 1932, before FDR's New Deal, union membership was 6.0%. After the FDR administration passed the National Labor Relations Act in 1935 to protect the rights of labor organization, union membership started to rise. By 1937 union membership was 12.9 %. America has just gone backwards in labor rights and organization
The BLS issued their annual union membership statistics and if it was ever more clear what a union can do for you it is wages. The wage difference between union members and non-union workers is huge. In 2012, the median weekly wage for workers not in a union was $742. Union members, on the other hand, had a median weekly wage of $943. That's a difference of $201 a week or $10,452 a year assuming one has paid vacation time and sick days, which many workers these days do not.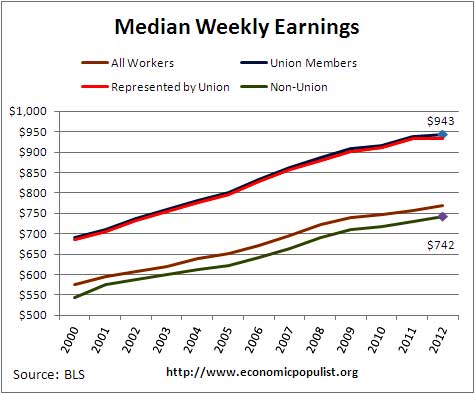 While there are occupational and regional differences in weekly wages, it is clear the right to collective bargain really makes a difference in obtaining a paycheck large enough to make rent with.
It is also clear why the Koch Brothers are busy getting their minions into public office. Private sector unions have already been decimated and the last hold out seems to be the public sector. Government, or public-sector workers have a 35.9% union membership rate. This is five times higher than the private sector, where only 6.6% of workers are in a union.
Union busting right to work laws have taken their toll as well. North Carolina, a right to work state, has only 2.9% union membership among those employed whereas New York, which does not have right to work laws, has a 23.2% union membership rate for those employed.
From the report:
Within the public sector, local government workers had the highest union membership rate, 41.7%. This group includes workers in heavily unionized occupations, such as teachers, police officers, and firefighters.

Private-sector industries with high unionization rates included transportation and utilities, 20.6%, and construction, 13.2%. Low unionization rates occurred in agriculture and related industries (1.4%) and in financial activities (1.9%).