On its current economic trajectory the United States runs the risk of seeing millions of workers unemployed or underemployed for many years. As a society, we should find that outcome unacceptable. - Federal Reserve Chair Ben Bernanke
We sure do find that unacceptable!. The above quote is from a speech where surprise, surprise, Federal Reserve Chair Ben Bernanke came out swinging, called cash on emerging economies for keeping their currency evaluations artificially low.
Bernanke referred to the two speed economies, ours and other high cost of living nations, slow as a dog, and nations like China, which are on fire. Below is a graph, taken from Bernanke's presentation, on what the real global imbalance problem is. We're languishing, emerging economies are booming.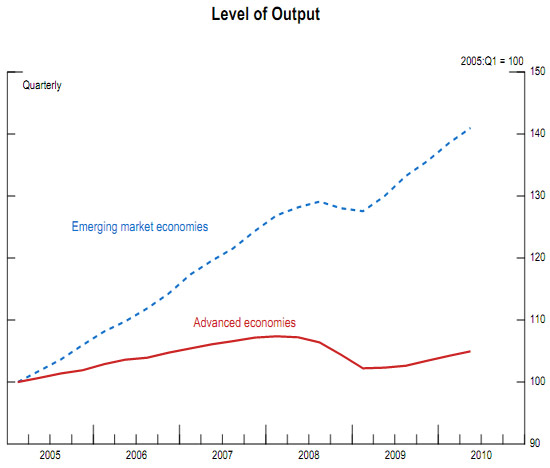 From Bernanke's speech:
Since the recovery began, economic growth in the emerging market economies has far outstripped growth in the advanced economies.
Since the beginning of 2005, real output has risen more than 70 percent in China and about 55 percent in India.
Bernanke notes that it's not just U.S. monetary policy that is flooding emerging economies with foreign capital, it's also their artificially low exchange rates on their currencies:
An important driver of the rapid capital inflows to some emerging markets is incomplete adjustment of exchange rates in those economies, which leads investors to anticipate additional returns arising from expected exchange rate appreciation.
He then goes onto to describe why the Chinese (and others) now hold so much of our debt. In a nutshell, these nations are committing currency manipulation
Why have officials in many emerging markets leaned against appreciation of their currencies toward levels more consistent with market fundamentals? The principal answer is that currency undervaluation on the part of some countries has been part of a long-term export-led strategy for growth and development. This strategy, which allows a country's producers to operate at a greater scale and to produce a more diverse set of products than domestic demand alone might sustain, has been viewed as promoting economic growth and, more broadly, as making an important contribution to the development of a number of countries. However, increasingly over time, the strategy of currency undervaluation has demonstrated important drawbacks, both for the world system and for the countries using that strategy.
Here's the money shot:
Currency undervaluation by surplus countries is inhibiting needed international adjustment and creating spillover effects that would not exist if exchange rates better reflected market fundamentals.
Then Bernanke lists a host of vague policy prescriptions to bring about a global economic balance but he warns again on currency manipulation:
So long as exchange rate adjustment is incomplete and global growth prospects are markedly uneven, the problem of excessively strong capital inflows to emerging markets may persist.
This post has pulled quotes out of context in order to get to the meat of the speech. Please consider reading the speech in it's entirety.
Below is a video of the actual speech. (Why do we need to go all the way to India to see the actual speech instead of various analysts chattering about what was said?)
If you go to the Federal Reserve link, there are accompanying economic graphs in flash (Fed, come on, use embedding at minimum and share with the rest of the class!)
For all of you gold bugs out there, Bernanke hits upon manipulation of the Gold standard as a currency manipulation historic parallel. Think about those implications while reading the excerpt below:
In the somewhat different context of the gold standard in the period prior to the Great Depression, the United States and France ran large current account surpluses, accompanied by large inflows of gold. However, in defiance of the so-called rules of the game of the international gold standard, neither country allowed the higher gold reserves to feed through to their domestic money supplies and price levels, with the result that the real exchange rate in each country remained persistently undervalued. These policies created deflationary pressures in deficit countries that were losing gold, which helped bring on the Great Depression.
Interesting and this reader hasn't heard about gold standard manipulation in the context of the Great Depression previously.
The Wall Street Journal has more facts and labels Bernanke, Fighting Ben! , assuredly a refreshing change:
By keeping their currencies artificially weak, Mr. Bernanke argued in Frankfurt Friday, China and other emerging markets are allowing their economies to overheat, preventing trade imbalances from adjusting and worsening what he called a "two-speed" global recovery.

Their "strategy of currency undervaluation" is preventing more "balanced and sustainable" global growth, he warns, echoing a view expressed by Obama Administration officials.
"Why have officials in many emerging markets leaned against appreciation of their currencies toward levels more consistent with market fundamentals?" Mr. Bernanke asks. Mainly, he says, because they are sticking to a long-term strategy of pushing for export-led growth with cheap exchange rates.
Ain't that the truth and a refreshing change from good ole Ben. Bernanke also implies some actual policy from our clown based Congress, which is Stimulus followed by major economic and policy structural reforms:
The Federal Reserve is nonpartisan and does not make recommendations regarding specific tax and spending programs. However, in general terms, a fiscal program that combines near-term measures to enhance growth with strong, confidence-inducing steps to reduce longer-term structural deficits would be an important complement to the policies of the Federal Reserve.