We hear all sorts of reasons why the little guy won't buy stocks these days but the below graph, courtesy of a Chicago Fed study, might explain a lot of it.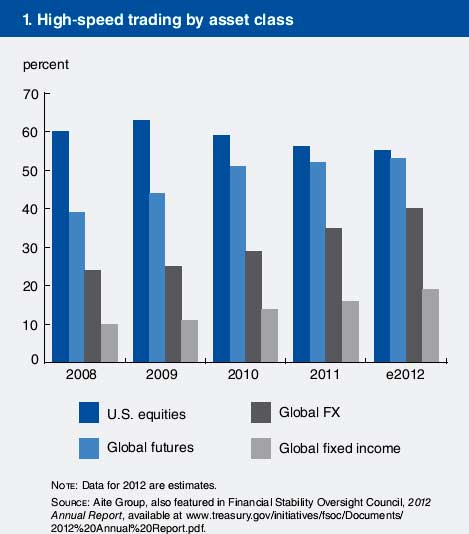 The above chart shows an astounding percentage of market trades going through no human involved trading systems known as high frequency trading.
The Chicago Federal Reserve paper, How to Keep Markets Safe in the Era of High-Speed Trading, prattled off a laundry list of the most recent high frequency trading debacles including Knight Capital as well as others. Yet in spite of these increasingly frequent stock market disasters, even basic risk controls are not implemented. Why? They claim it would slow down their trading systems.
Industry and regulatory groups have articulated best practices related to risk controls, but many firms fail to implement all the recommendations or rely on other firms in the trade cycle to catch an out-of-control algorithm or erroneous
trade. In part, this is because applying risk controls before the start of a trade can slow down an order, and high-speed trading firms are often under enormous pressure to route their orders to the exchange quickly so as to capture a trade at the desired price.
While the paper focuses on events, contained within is a solid example of really bad software engineering. The Chicago Fed found code wasn't even tested, literally changes are being made on the fly on live production servers not just putting those trades at risk but the entire system as well.
Another area of concern is that some firms do not have stringent processes for the development, testing, and deployment of code used in their trading algorithms. For example, a few trading firms interviewed said they deploy new trading strategies quickly by tweaking old code and placing it into production in a matter of minutes.
Perhaps financial organizations should consider hiring some real engineers who know a thing or two about software design instead of what they are doing. No American who is worth their salt, including those specializing in advanced mathematics, would ever change, on the fly, algorithms on a live server, dealing with billions of dollars.
The study also found out of whack fictional financial mathematics, referred to as algorithms, being designed as well.
Chicago Fed staff also found that out-of-control algorithms were more common than anticipated prior to the study and that there were no clear patterns as to their cause. Two of the four clearing BDs/FCMs, two-thirds of proprietary trading firms, and every exchange interviewed had experienced one or more errant algorithms.
The report amplifies just astounding irresponsibility and engineering incompetence. Can you imagine someone in a nuclear facility implementing software changes on the fly? Can you imagine air traffic control algorithms refusing to put in safety and error checks, claiming that slows down real time air traffic routing execution?
The Chicago Fed does give some recommendations in their report:
Limits on the number of orders that can be sent to an exchange within a specified period of time
A "kill switch" that could stop trading at one or more levels
Intraday position limits that set the maximum position a firm can take during one day
Profit-and-loss limits that restrict the dollar value that can be lost.
May we add to these suggestions trading firms hire American engineers with U.S. education and training? Honestly, at least from the better universities, software development described at the level this report suggests implies a clear lack of knowledge and skill in financial mathematics and more importantly, software engineering R&D processes and procedures.
The New York Times profiled two brokers simply trying to impose a 50ms trade delay rule. They are getting attacked, seemingly by people who don't know how to develop algorithms and software:
It's a staggering development — and one that Mr. Arnuk, 46, and Mr. Saluzzi, 45, say has contributed to the hair-raising flash crashes and computer hiccups that seem to roil the markets with alarming frequency. Many ordinary Americans have grown wary of the stock market, which they see as the playground of Google-esque algorithms, powerful banks and secretive, fast-money trading firms.

To which Mr. Arnuk and Mr. Saluzzi say: enough. At their Lilliputian brokerage firm, they are tilting at the giants of high-frequency trading and warning — loudly — of the dangers they pose. Mr. Saluzzi was the only vocal critic of H.F.T. appointed to a 24-member federal panel that is studying the topic. Posts from the blog that the two men write have been packaged into a book, "Broken Markets: How High Frequency Trading and Predatory Practices on Wall Street are Destroying Investor Confidence and Your Portfolio," (FT Press, 2012) which was published in June. They are even getting fan mail.

But they are also making enemies.

Proponents of high-frequency trading call them embittered relics — quixotic, old-school stockbrokers without the skills to compete in sophisticated, modern markets. And, in a sense, those critics are right: they are throwbacks. Both men say they wish Wall Street could go back to a calmer, simpler time, all the way back to, say, 2004 — before the old exchange system splintered and murky private markets sprang up and computers could send the Dow into 1,000-point spasms. (The bottle of Tums Ultra 1000 and the back-pain medication on Mr. Arnuk's desk here are a testament to their frustrations.)

They have proposed solutions that might seem simple to the uninitiated but look radical to H.F.T. insiders. For instance, the two want to require H.F.T. firms to honor the prices they offer for a stock for at least 50 milliseconds — less than a wink of an eye, but eons in high-frequency time.
Incredible that a 50ms delay is met with so much resistance, but that's how much our stock market has turned into a gambling casino based on the nanosecond response time and skew of a NAND gate in some router. Not exactly investment. Odds are if such a delay is implemented, more bad software design will proliferate, either by trying to hid trades less than 50ms and others attempting to hit the picosecond next to that time interval in execution.
Occupy Wall street and others want transactional taxes to curtail Wall Street excesses, or as they call them Robin Hood taxes. These are small taxes that occur on every trade executed, raising revenue and disincentivizing high frequency trading as well as other types of short hold trading. Needless to say a Tobin tax, or a small fee for a certain number of trades executed in a short time window, would would place speed bumps on the great high frequency trading superhighway.
One thing that can be said, Wall Street is running amok unabated. Seems the great Financial Crisis of 2008 didn't change anything. History doesn't just repeat itself these days, it repeats itself over and over again in the space of 9 nanoseconds.
Below is Bloomberg Law's exceptional questions asked interview with Senator Jack Reed (D-RI) on high frequency trading. The Senate Banking Committee is holding a hearing on high frequency trading September 20th. The SEC is holding a forum on October 2nd on the same issue.
Notice how engineers, technologists are not on the witness list and the wishy-washy hearing title, Computerized Trading: What Should the Rules of the Road Be?